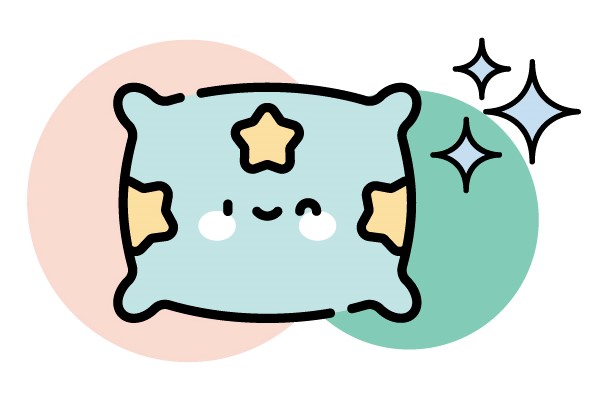 If you have a sore neck after sleeping it does not mean that you unloaded the cars all night. The most common reason is that something is wrong with your pillow. After all, if you sleep comfortably the probability of waking up tired and broken is much less. Let's talk about how to choose the right pillow for sleep, analyze the pros and cons of different types of fillers.

Think About Your Sleeping Position
Human anatomical features, the presence of diseases of the musculoskeletal system, allergies and other factors make the choice purely individual. Therefore, it is not right to buy the same pillows for all family members. In each case, the height and rigidity should be selected taking into account age, physique, personal preferences, as well as the usual sleeping position. A pillow on which to sleep well will be ideal. Each person will have their own selection criteria.
Pick a Size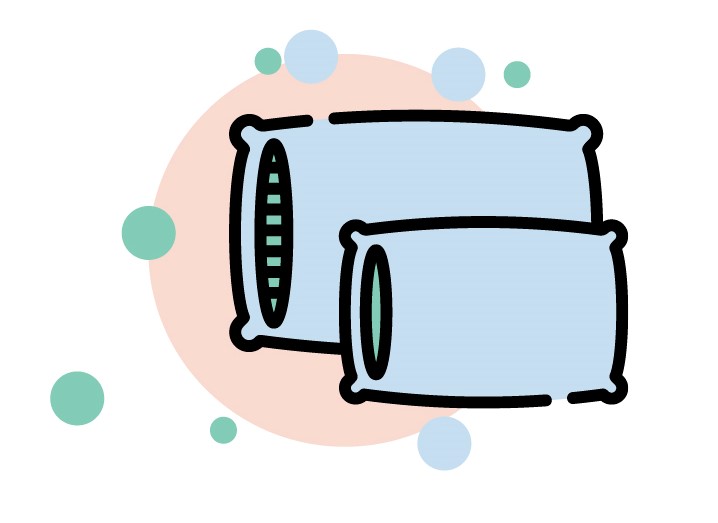 The size should match your head and neck size. You should choose a size based on the size of the pillowcases and your bed.The right pillow for sleeping corresponds to the position in which you often sleep. Those who rest mainly on the side, it is better to stop at high models. If you sleep mostly on your back or stomach, then a low sleeping pillow will suit you. If you are characterized by restless and quite active sleep, it is better to buy two pillows and sleep in the middle, changing your posture. Manufacturers make products of the following sizes:
20" x 27" – the most common size (80% of all pillows);

27" x 27" – rare;

20" x 20" or 15" x 15" – often the size of a square shape.
Identify Pain Points
When choosing a pillow you should take into account your sore points: a head and a neck, a back and a lower back.
A healthy person can sleep on any surface and feel good – on a soft pillow, on a hard one or without one at all. Finding a comfortable sleeping position is an art for a patient with osteochondrosis.
The orthopedic pillow helps to relax the muscles of the back and neck, relieves the clamping of blood vessels and allows you to restore blood circulation. It is easier to fall asleep on it than on a regular one. An orthopedic pillow is a pillow that supports the spine in the correct position.
People with cervical osteochondrosis often have pain not only in the neck but also in the entire back. A triangular pillow under the lower back will help you to take a comfortable position and relieve the load from the sacral region. The triangular-shaped model supports the natural curves of the spine and prevents clamps between the intervertebral discs.
What are the rules to follow so that your bed has the best pillow for a headache? Basically, this is the best orthopedic headache pillow which has a height of 6 to 16 cm. To choose a pillow for this parameter you should measure the width of your shoulder. This figure will give an accurate answer to the question of what height the pillow should be purchased to avoid headaches and neck pain.
Prioritize Neck Support
If you are experiencing a headache, neck pain or neck tension it is important to choose the right pillow that will provide maximum support for your neck. With the right pillow your muscles will be able to relax and your rest will become more comfortable.
The optimal height of the pillow is equal to the width of your shoulder but you need to consider the position in which you usually sleep. The main condition is that the spine is straight, you were comfortable sleeping and waking up nicely.
The easiest way is to bring an assistant to the store with you. It is better to go to such shopping together. Why? At the store, take a pair of pillows that you like and lie down on them in the mattress studio. Sellers will tell you a mattress similar to the one you have at home in order to fully modulate your home environment. Lie on your back and ask a friend to draw a line from the ear to the shoulder then to the thigh and knee. If the line is straight – the pillow suits you. If the pillow is too high the head will be placed over the shoulders and if the pillow is too thin the head will be positioned as if in a failure. In both cases, the line will be distorted.
Support vs. Comfort
For maximum support, you need a material that gives way to pressure and stays put for support. Pillow material for back sleepers, for example, should surrender to the back of the head, but rise to support neck arch. More support doesn't always equal more comfort, but in finding a comfortable pillow support is often very important. Additionally, when looking for the best pillow for neck support, it's very important to pick the right materials to fit your sleep needs.
Bed pillows with batting made from memory foam or hyper-elastic polymer materials aren't "stuffed" with anything. They're molded from space-aged materials into a solid structure. As such, they resist shifting within the pillow, like feathers, beads or other loose materials.
Choose a Filling Material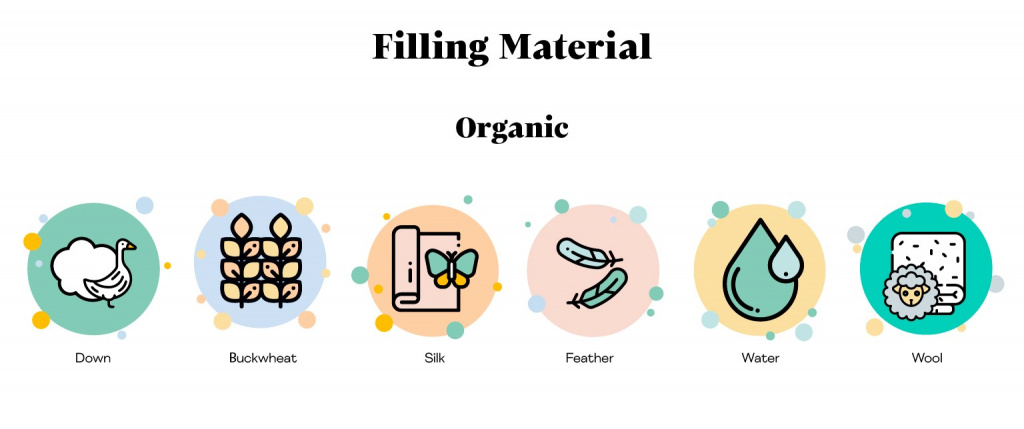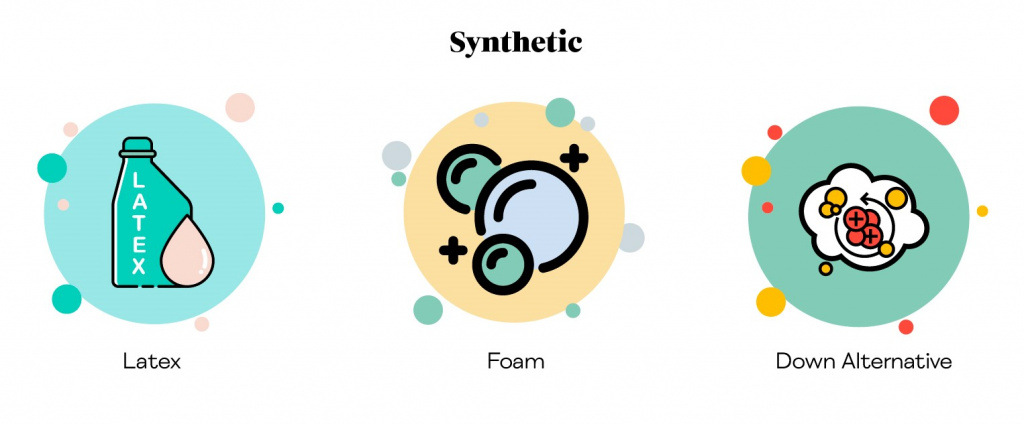 It is very important to choose the right filler especially for allergy sufferers. And natural pillows are not always better than synthetic ones. Modern artificial materials have long been inferior to the quality of sleep and natural performance. In addition, the filler directly affects the stiffness of the pillow and affects its service life.
Natural fillers include: feather, wool, fiber of plant origin. Polymer-based materials are used as a synthetic pillow filler.
Here's a general list of typical pillow fillings:
Down. Usually goose down and probably the most common pillow filling

Down Alternative. Usually a polyester microfiber.

Foam. Often shredded or cut into small pieces or solid monolithic forms.

Latex. Good at relieving pressure and extremely durable.

Feather. Soft, breathable and a good option for sleepers who need a breathable pillow with a lower loft.

Buckwheat. Closely conform to the body and are both vegan and organic

Wool. Less common, but growing in popularity. Pillows filled with wool are hypoallergenic and organic, plus they're naturally temperature neutral and extremely conforming.

Water. Often require owners to fill with water themselves, and are supplemented with other materials, like memory foam. Water pillows are supportive and cooling while allowing for adjustable firmness.

Silk. Like bamboo, silk is often used as a cushion material for pillowcases. Growing and feeding silkworms requires a huge amount of trees and growth hormones. It is not a renewable animal fiber, meaning that silkworms die during extraction.
Down
Down is characterized by high thermal insulation. Downy fluffs create microscopic air layers due to which they are able to keep cool in hot weather and warm in cold seasons. The down is hygroscopic so it does not fall into lumps. Pillows easily reshape the head and restore the previous volume.
Down Alternative
The material is made of fibers or polyester fibers. Thanks to this ball, you can control the formula and size of such a pillow. Polyester has antimicrobial properties. Pillows with this filler are inexpensive.
Bamboo
This filler is made of bamboo fiber which has excellent properties: an antibacterial effect, high air permeability and maintains optimal heat transfer.
Pros:
Cons:
Latex
Natural latex foam has been used as a filler for bedding for about 100 years. Latex is obtained from the sap of a rubber tree which is grown on an industrial scale in Southeast Asia.
Pros:
Soft and elastic, very elastic

Easily adjusts to the shape of the head and neck

Hypoallergenic

Does not collect dust

Dust mites, bacteria and fungi do not start inside

They keep their shape well for up to 10-15 years.
Cons:
Poorly absorbs moisture

The first time sleeping on such a pillow is unusual

High cost, although it depends on the manufacturer.
Feather
The feather adds elasticity to the product thanks to which the pillow keeps its shape.
Pros:
Holds shape well

Provides air circulation

Properly distributes heat

Relatively affordable price.
Cons:
May cause allergies: sneezing, coughing, inflammation of the mucous membranes of the eyes, tearing, rash and swelling.

Down and feather pillows require regular care. They must be washed at least 2-3 times a year at home or dry-cleaned often dried and aired.

The use of chicken feathers (this applies only to cheap ones, while medium and expensive ones use goose down or duck down) and down today does not meet hygienic requirements: this filler absorbs too much moisture and is a breeding ground for pathogens.
Conclusion
Summing up, let's say that the range and variety of pillows in today's market is able to meet any requests and requirements of buyers. The main thing is to be able to determine the most comfortable option for yourself.