Instructions for use. Step by step.

We wouldn't be surprised if you told us that you don't keep track of the last time you washed your duvet. Maybe just today, as you were making your bed, you realized that you had never done it before. It's quite possible that you basically don't know how to do it, and you're even afraid of spoiling your duvet.
Don't worry if you're not 100% sure what the difference is between a duvet and comforter. We've created this step-by-step guide just for you. With this guide, you'll learn how to prevent allergens and get rid of other gung during the washing process. We will tell you, how to wash a duvet in a proper way.
A few facts about a duvet
Most likely the term "duvet" is familiar to you. However, it is quite possible that you simply have not thought about whether there is a difference between a comforter and a duvet. Now we will tell a few words about what a duvet is.
Normally, a duvet consists of two parts - a cover and an insert. It is usually filled with down, wool or feather. The comforter has one part. It does not need a duvet cover. In other words, it is a quilted blanket made of synthetic fibers. If you have an insert that requires a cover, we're probably talking about a duvet. This is a piece of cake!
How to wash a duvet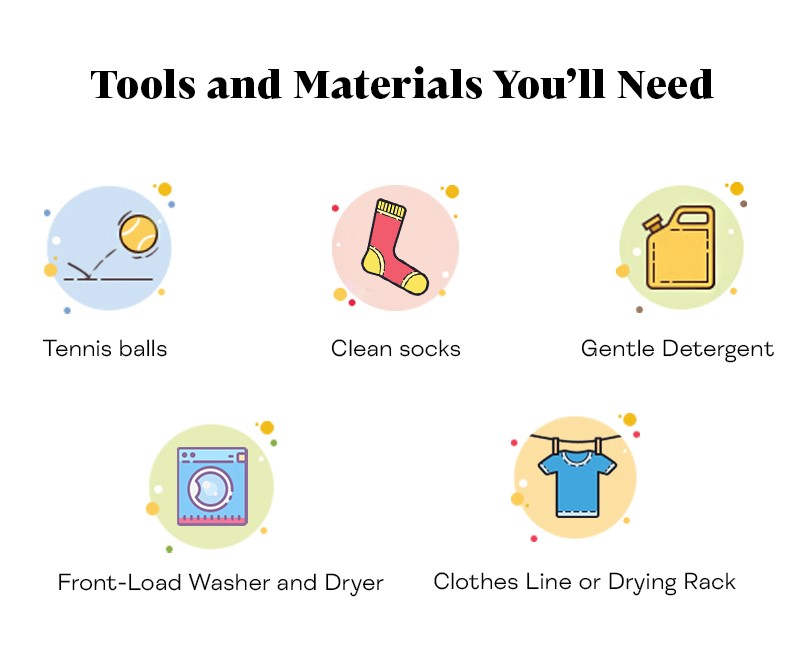 Here's what you'll need to wash your duvet
A pair of socks

Tennis balls

Detergent for gentle wash

Washing machine with front loading and dryer

Stand for drying Clothes
First of all, make sure you have everything you need to wash your duvet: two or three tennis balls, clean socks, a drying device or a regular clothesline, and a delicate detergent.
How to wash a duvet and get the best results? Wash king or queen-sized duvets in an extra-large front-loading washer and dryer. These machines can usually be found in a laundry room. However, they usually cost a few dollars more than a medium-sized washer and dryer.
Keep in mind, that not all duvets are produced in the same way. It is important to be sure to read the care instructions before washing at home. Some products require professional cleaning or special care. Our guide will help you wash your duvet at home without damaging it.
How to treat stains beforehand
To keep your duvet looking like new, we recommend that you treat stains well before washing. We recommend that you carefully inspect your bedding in advance. You may find stains that will require pretreatment.
We recommend that you check your bedding for tears. This will allow you to avoid a situation when the filling falls out while washing.
Place your bedding into the washing machine
Be sure to remove the duvet cover before putting the duvet in the washing machine. Do not stuff your bedding into the washing machine if it does not fit in there. We recommend that you use the laundry service in a situation like that.
Place your tennis balls in the washing machine
Put each tennis ball separately in a clean sock and tie it up. Then place your socks in the washing machine. This method will provide an extra stirring effect that will remove stains, dirt, and sweat marks from the duvet.
Add detergent for gentle wash
It is recommended to use about half of the detergent that is used for normal loading. Do not, under any circumstances, pour the detergent on the bedding itself!
5. Start the washing machine on the proper cycle
Set the gentle mode in the washing machine. If your washing machine has additional options, turn them on (rinse and spin).
Remove your Duvet and Check for Soap Residue
After you remove the duvet from the washing machine, check for soap residue. If soap residue remains, wash the duvet without soap again or set the washer to rinse and spin mode.
How to Dry Your Duvet
After making sure there is no more soap residue on the duvet, take it out and put it in the dryer. The dryer should be set to low temperature or air-drying mode. If you do not have a dryer, you can dry your duvet on a drying rack.
Check the Dryer and Fluff
While the duvet is drying, you should shake it periodically to make sure the fluff is distributed evenly.
It may take more than three hours for your duvet to dry completely. That's why it's a good idea to plan your day in advance so you can stay home. Once your duvet feels light to the touch and the filling is evenly distributed over the entire surface, you will know it is dry. If you're not sure the duvet is completely dry, it's best to leave it out to dry completely or it may get moldy or acquire an unpleasant odor.
9. Wash the Rest + Make Your Bed
After the quilt is completely dry, you can begin washing the pillows and tidying up your sheets. Once you've tidied up all your bedding, you'll be able to put on your linens and enjoy your rest in a clean, comfortable bed.
How to Spot Clean

Wet the dirty surface with water with a sprinkler

Apply soap with pat and rub with a sponge or toothbrush

Rinse with water or wash in a washing machine
There are times when you find stains on your bedding that are hard to remove. In this situation, it is better to use spot cleaning. However, this happens more often with a comforter, because you usually use a cover with your duvet.
To do spot cleaning, you'll need a clean white rag, a spray bottle of water, and a gentle stain remover. See below what to do:
Move the filling so that it is not located under the stained area and it is easier for you to focus on the stained outer fabric

Moisten the stain and the cloth around it with a sprinkler

Apply the stain remover of your choice

Rub the cloth thoroughly with a rag

Leave it for 20 minutes

Rub the surface of the cloth thoroughly with a toothbrush

After the stain has become lighter, the duvet is ready for washing
If you are spot-cleaning and do not plan to wash the entire duvet, follow our further recommendations:
After the stain is gone, rinse the treated area with water to remove traces of soap

Next, you can use a hair dryer or throw the duvet in the dryer for a while to fluff up the filling.
How Often to Wash a Duvet
A duvet does not need to be washed too often because it has a cover. The sheets or other bedding need to be washed more frequently. Nevertheless, you can safely wash your duvet every few months without harming it. If you think it's too often, do it a couple of times per year.
We think you are comfortable living in good condition. Knowing how to wash your duvet is one of the most important parts of that fact. It's quite possible that having a step-by-step guide can make the process much easier for you. In addition, we believe that you will have a desire to learn how to wash your weighted duvet.
If you have inspected your bedding and decided that you need to update it, we recommend that you take a look at our range. Our collection contains a variety of items that will definitely suit the most demanding customer!